Since 2010, the Maternal, Infant, and Early Childhood Home Visiting Program (MIECHV) has significantly expanded evidence-based home visiting services for families with young children. A cornerstone of MIECHV is a learning agenda that includes a portfolio of research, evaluation, performance measurement, and quality improvement efforts.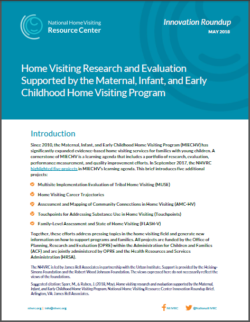 This brief introduces five projects in MIECHV's learning agenda jointly administered by the Office of Planning, Research and Evaluation and the Health Resources and Services Administration:
Multisite Implementation Evaluation of Tribal Home Visiting
Home Visiting Career Trajectories
Assessment and Mapping of Community Connections in Home Visiting
Touchpoints for Addressing Substance Use in Home Visiting
Family-Level Assessment and State of Home Visiting
The brief builds on a 2017 publication that introduces five other MIECHV-supported projects. Together, they address pressing topics in the home visiting field and generate new information on how to support programs and families.