People
Nichole Sturmfels, M.P.H.
Senior Data Manager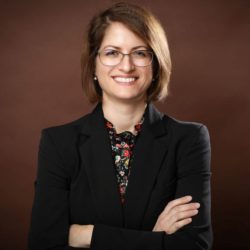 Nichole Sturmfels has more than 13 years of experience in applied public health research, data operations, and technical assistance—primarily in the areas of home visiting, maternal and child health, and child welfare.
Currently, she is the data manager for the Multisite Implementation Evaluation of Tribal Home Visiting project. She also leads tasks for two projects: Developing Strategies to Facilitate Cross Model Collaboration and Data Sharing and Maternal, Infant, and Early Childhood Home Visiting Program—Feasibility Study and Pilot of the Home Visiting Budget Assistance Tool. Sturmfels coordinates JBA's data security efforts and provides guidance to project teams around data management and analysis.
Prior to joining JBA, Sturmfels was co-project director for the California Maternal, Infant, and Early Childhood Home Visiting grant. She served as the chief of the data and evaluation unit, where she led efforts on data systems, collection, and reporting. Areas of focus included local agency technical assistance and continuous quality improvement, cross-department data linkages between home visiting and child welfare, the statewide home visiting needs assessment, and early childhood systems integration.
Sturmfels received an M.P.H. from the University of California, Davis.