People
Nichole Sturmfels, M.P.H.
Senior Data Manager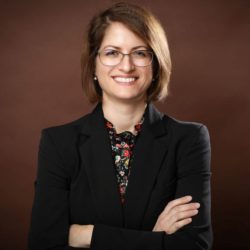 Nichole Sturmfels has 15 years of experience in applied public health research specializing in data system selection, implementation, operations, and reporting within the areas of home visiting, maternal and child health, and child welfare. Her skills include configuration and management of information systems, multisite data collection and evaluation, technical assistance, monitoring and reporting of federal privacy and data security activities, data archiving, and policy recommendations.
Currently, Sturmfels is the project director for two Parents as Teachers research projects involving secondary data analysis. She oversees quantitative data collection and analyses in collaboration with local tribal grantees as data manager for the Multisite Implementation Evaluation of Tribal Home Visiting project. Recently, she led quantitative data collection activities and the development of state-level policy recommendations for the California Home Visiting Coordination project. Sturmfels coordinates data systems at JBA, including implementation and monitoring of its system security plan.
Sturmfels' research interests include using social service data system infrastructure to support early childhood systems coordination (e.g., integrating home visiting data with other social service datasets using information models). She is a member of the Home Visiting Applied Research Collaborative team and leads data sharing and interoperability efforts that promote a common framework and language to facilitate precision home visiting research.
Prior to joining JBA, Sturmfels spent 10 years working for the California Department of Public Health. Her most recent role was director of California's Maternal, Infant, and Early Childhood Home Visiting grant. Sturmfels was responsible for supervising a team of research scientists who coordinated multisite data collection, management information system operations, and program evaluation. Areas of focus included local agency technical assistance and continuous quality improvement, cross-department data linkages between home visiting and child welfare, the statewide home visiting needs assessment, and early childhood systems integration.
Sturmfels received an M.P.H. from the University of California, Davis.